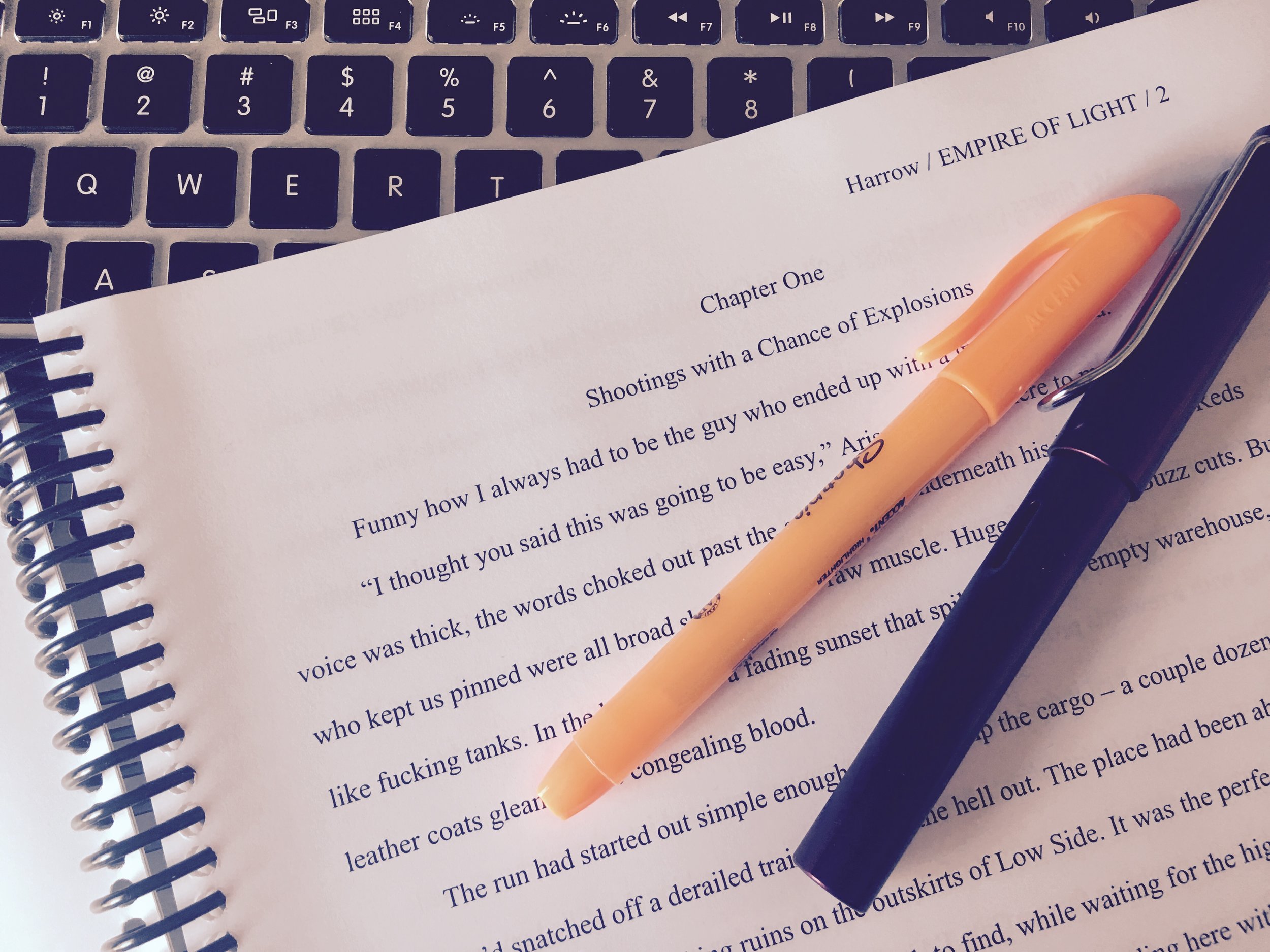 My local writing group asked me to clear up some misconceptions when it comes to manuscript formatting, so here are some guidelines when formatting your manuscript to send out to agents and editors:
Stick to Times New Roman and double-spacing.
Some say you're okay with Courier or Arial, but you really can't go wrong with basic Times New Roman for easy readability on a variety of devices. Standard 12 pt. font for all of your text.
Use double-spaced and left-aligned text throughout your manuscript (except for your title on your title page, page headers (which should be right-aligned) and chapter titles (should be centered). Your right edge should be ragged, not justified.
Your title page should include your name (and pseudonym, if applicable) and contact info (address, email, phone number) in the upper left corner. Left-align this information.
About halfway down on your page, center your manuscript's title in all caps, then add a blank line and center "by" and your name.
If you have an agent, include their name and contact information beneath your name (skip a line before).
In the bottom left corner, include your manuscript's genre and word count (round to the next full thousand, for example: 89,675 words would be 90,000 words).
Headers should be consistent and skip your title page. 
Your header should include page numbers, your manuscript's title, and your last name. To format this, it's easiest to insert page numbers first (these should be in the upper right corner of your page), then click into your header by your page number and add your last name and your manuscript's title in all caps separated by slashes (Example: Harrow / EMPIRE OF LIGHT / 1).
To exclude your title page (your headers should start where your manuscript does), click into "Header and Footer" in Word and check the "Different first page" box.
Page breaks and clear chapter headings are your friend. 
Insert a page break after each chapter to make sure the next one starts on a new page. Chapters should start about 1/3 of a page down with the chapter title (or just CHAPTER ONE) in all caps and centered. Add a blank line before your chapter text starts.
Use 1" margins, automatic indentation and get rid of extra spaces between paragraphs.
Under "Format" and "Document", make sure your margins are set to 1" on each side (left, right, top, bottom). Sometimes MS Word likes to default to 1.25" on the left and right, but you can easily change this by selecting 1" margins as your default.
The first line of each paragraph should be indented by 0.5 inches, which MS Word usually does automatically.
To eliminate extra spaces between paragraphs, go to "Format" and "Paragraph" and check the "Don't add space between paragraphs of the same style" box. Done!
Pay attention to the little things. 
Like character spacing. You only need one space after a period. Two spaces are an ancient typewriter relic and computers mean we're so over that because now fonts auto-adjust, so please, if you have the two-spaces-after-a-period-habit, please, train yourself out of it.
Mark scene breaks with a blank like an a centered # symbol.
Italics are fine when needed. No need to underline anymore.
Avoid formatting inconsistencies and screw-ups when pasting material into an email. 
When querying, most agents ask you to paste any sample material directly into your email. For that it's helpful to save your sample pages, synopsis, even your query as a .rtf file. That way you avoid your or your queried agent's email client displaying the format differently.
Your query and synopsis should be single-spaced, 12 pt. Times New Roman, by the way.
And that's it.
By the way, if you use Scrivener, it can export your manuscript already properly formatted and save you a lot of work, but I often tend to double-check that as well. It's a little thing compared to all of those edits you will have made before querying your manuscript, but paying attention to the little things is definitely worth it.