It's finally here! It's my "Gay Firefly with Magic" adult science fiction debut, Empire of Light's official book birthday and part of me still can't believe that this day is actually here and that there are real, actual copies of this thing I wrote out in the world, and people are sending me pictures of it in the wild, along with live-reading updates, and awesome reviews. This is a thing, you all! And it feels pretty fucking fantastic.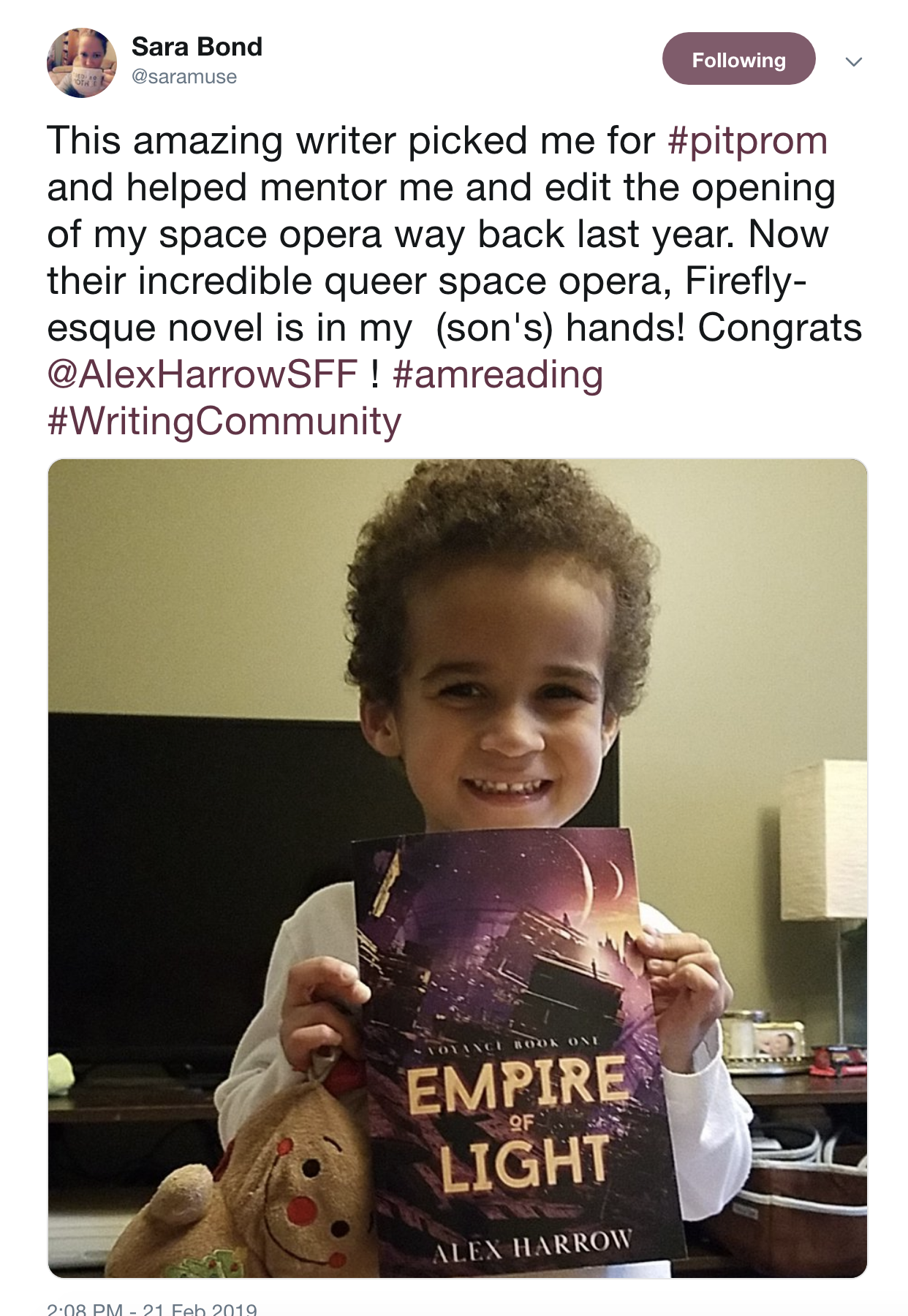 But I also wanted to talk a little bit about some of the things that happened on the way to getting this book into everyone's hands, because so often we celebrate the successes without mentioning all the other shit that happened along the way of publication. So, here are some of the ingredients that helped make this book:
Writing out of spite:
I started writing this book when I honestly didn't see a lot of queer books written by queer folk with queer protagonists (and antagonists, and supporting characters…basically queer EVERYONE) out there. I started writing Empire of Light at a time when I got The Look whenever I mentioned I wrote a book with queer main characters, felt distinctly unsafe as a queer person at conventions, and can't count the times that I was flatly told I shouldn't write what I write or that it would never sell. I'm really, really glad this has changed and that as I kept going, I not only found SO MANY more queer books (and fantastic authors to support!) but an amazing community that has my undying love because of how magically badass they all are.
Writing through extended breaks:
Part of the reason it took this many years for this book to finally see the light of day is because I absolutely had to take breaks. I first started writing seriously after I had immigrated to the U.S. and survived one of the most toxic and dangerous times of my life and in many ways finding writing and the community with it, finding a purpose and something that drove me, absolutely saved me—while also bringing snarky, sweary, and twisty af characters to life. My writing journey definitely took a few hard stops, like when I took extended breaks to let a manuscript sit, or when I had to take nearly two years off because I was finishing my teaching degree, studied full-time, worked as a student teacher, and held a full-time job because there was just me and somehow I had to eat and keep a roof over my and my cats' head. And yes, extended breaks suck. This one certainly did and I honestly thought I had broken myself and my writing with it for a while. But I got back into it, not the least because people kept pushing me, cheering me on, and demanding I keep doing this thing. So, to those of you who never gave up on me, thank you can't adequately describe the words I have for what you did for me.
The Emo-Coaster that is Publishing:
When I first started to write serious and learn about the publishing process, I thought that all I had to do was get an agent, who would sell my book, and I'd be set. Yeah, I was a naive baby writer, but hey, we all start somewhere. The truth is that a) publishing moves at a rather glacial pace (until it does not), b) there isn't really a one-size-fits-all model (when is there ever?), and c) sometimes you can do everything right and things still go to hell. Empire of Light took me years to write into a readable version, more years to edit and finally scrape together the courage to query, and then, after nearly a year in the query-trenches, when I finally was in that magical place where I had to choose between three agents who wanted to represent me, things still didn't quite pan out. My agent was lovely and I loved working with her. I got a handful of very complimentary rejections, and yes, if anything is harder than querying, it's being on submission, but ultimately my agent couldn't continue working due to health reasons and we parted ways. That was a bit of a rock bottom moment for me that honestly stalled my writing something fierce and I thought this book was pretty much dead, since big publishers had seen it. But then I went out and submitted it to smaller presses who didn't require an agent and negotiated my own deal with NineStar Press, who have been absolutely lovely to work with.
So, yeah, this book took one hell of a winding road to get to where it is now and looking back, there are certainly things I could have done better. But, you know what? There are so many things I learned while writing, editing, querying, and working with my publisher, that I wouldn't want to trade in for the world, because every little bit that went into this book is learned experience, is treasured memories, is a hoard of armaments and things I'll know to do better, or differently, or to continue learning about for the next one. Because there will always be a next one.
But today, it's the book birthday of my very first. And damn if that isn't something.
Happy reading!
—Alex
Damian Nettoyer is the Empire's go-to gun. He kills whoever they want him to kill. In exchange, he and his rag-tag gang of crooks get to live, and Damian's psychokinetic partner and lover, Aris, isn't issued a one-way ticket to an Empire-sanctioned lobotomy.
Then Damian's latest mark, a suave revolutionary named Raeyn, kicks his ass and demands his help. The first item on the new agenda: take out Damian's old boss—or Raeyn will take out Damian's crew.
To protect his friends and save his own skin, Damian teams up with Raeyn to make his revolution work. As Aris slips away from Damian and his control over his powers crumbles, the Watch catches on. Damian gets way too close to Raeyn, torn between the need to shoot him one minute and kiss him the next.
With the Empire, Damian had two policies: shoot first and don't ask questions. But to save the guy he loves, he'll set the world on fire.